2020 Monarch Festival Re-Imagined
Arts & Artists Blog – Bringing the Festival into Your Home

Bring the Festival to Your Block – Chalk Art by Taylor Tinkham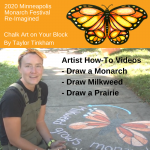 Each year, the Festival blends art and environmental education to give audience members the knowledge and tools to join the fight to protect Monarchs and their habitat. This year, Taylor Tinkham offers three videos for you to learn how to make your own chalk art projects on your block and in your community. These Artist How-To videos allow artists of all skill levels to join the fun and to start to make a difference in your neighborhood. Taylor is a Minneapolis artist, founder of CeMental Break and this is her first time as a Festival artist. Videos in English with Spanish subtitles: Plant Milkweed. Grow Monarchs   l   Milkweed Feeds Monarchs   l   Fall Blooming Flowers Feed Me for My Flight 
Send us a photo and story of your Monarch Chalk Art. Email to monarch@nokomiseast.org.
Regalia and History by Kalpulli KetzalCoatlicue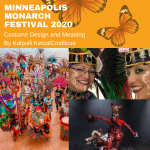 Each year at the festival as the conch shell sounds and the sacred drums invite us to the stage, dancers of all ages dressed in traditional Nahuatl/Aztec regalia introduce the audience to a part of their cultural heritage. Link to Video – In English and En Español
Kalpulli KetzalCoatlicue is a long-time festival performing festival artist and a crowd favorite Susana De Leon, troupe leader and a member of the festival planning committee, shares with us a spectacular bilingual video explaining the history, the dances, the costuming, and the dancers. Enjoy Susana's video weaving together the Nahuatl cosmovision and creation stories of the Mexican ancestors.
The Kalpulli KetzalCoatlicue (Precious Mother Earth) is a Kalpulli (learning community) of Indigenous people joined by the desire to learn, share and live the tradition of Aztec dance. Ketzal Coatlicue pursues this spiritual, mental, and physical vocation with music from the sacred drum, conch shells, seeds and other instruments gifted by the natural environment. A majority of the members are youth, but participating members ages range from toddlers to elders. Ketzal Coatlicue's cultural learning center is located in South Minneapolis.
Desktop Concert by Mariachi Son De Morelos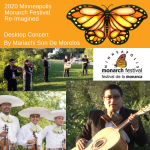 Sit back and enjoy a special desktop concert created for the Minneapolis Monarch Festival Re-Imagined. On a warm sunny day in September, Mariachi Son De Morelos made its second appearance at the Festival this year. The group has been together for five years and specializes in traditional Mexican music. During the Festival, these performing artists attract a large, energetic crowd to the dance floor. Audience members sing along to the familiar songs and move with the rhythm of the string and brass instruments.
Link to videos – In English and en Español.
Wings of Hope – An In-Person Artist Event by Claudia Valentino and Mia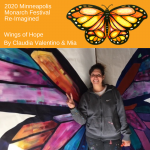 Stop by to spread some hope on Saturday, September 12! Share your wishes for community care and take a selfie in front of this new set of butterfly wings, created by Argentine artist Claudia Valentino (Clau). Long-time Festival partner, Minneapolis Institute of Art will also be sharing information about the upcoming Foot in the Door 5 exhibit, and while supplies last, free art materials to create your own art.
Claudia was born in Mexico. She is the daughter of parents exiled by the dictatorships in South America. She studied dance and photography for some years. Valentino arrived in Minneapolis in 2009, where she has added painting and mosaic to her creative skillset. Working with the community is one of the things she likes most about her profession.
Monarch Come Play with Me by a children's book by Ba Rea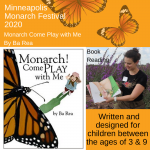 "Monarch Come Play with Me" – a children's book written Ba Rea and read for the Monarch Festival Re-Imagined by Christine at Monarch Joint Venture in a field of meadow blazing star bursting with Monarch Butterflies.
The video readings in English and en Español.
Ba Rea has created a sensitive, interactive narrative that focuses on the questions and answers between a monarch and a young girl. As the monarch progresses through metamorphosis from larva to adult, the young girl compares her own needs and activities to those of the monarch. The illustrations are exquisitely simple, scientifically accurate, and truly a delight to behold. From preschoolers to adults, ALL ages will be captivated by this beautiful new volume.
Ba Rea's illustrations feature detailed images of monarch eggs, caterpillars, chrysalides, and butterflies that will allow curious readers to discover for themselves fascinating details of the lives of monarchs beyond those directly addressed in the text.
Book for sale and parent/teacher guide available from Monarch Joint Venture.
Page available in: Español