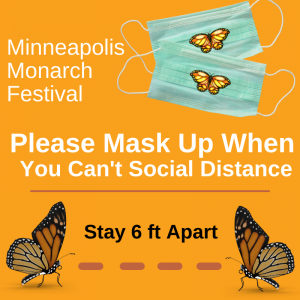 The 2021 Minneapolis Monarch Festival is a fully outdoor event. We have been monitoring guidance from the CDC, State of Minnesota, and the City of Minneapolis to keep our artists, exhibitors, vendors, and guests safe during this unprecedented time of the COVID-19 pandemic.
Here are recommendations to keep us all safe:
Pack masks as you head to the festival. Please have masks for all ages, as appropriate for your family.
Although this is an outdoor event, you may find yourself in line and unable to keep 6 feet between groups. Please wear your mask when you are closer than 6 ft to others.
Please wear your mask when you are interacting with our artists, exhibitors, vendors, and festival-goers.
Forgot your mask? Stop by the Festival Information Booth for a free one.
The festival does not have secure entrances. We ask for your voluntary compliance with wearing masks.
Make Your Own Monarch Festival Mask
An Artist-Led Home Activity. Wear at the festival!
El Festival Monarch de Minneapolis es un evento totalmente al aire libre. Hemos estado monitoreando la guía de los CDC, el estado de Minnesota y la ciudad de Minneapolis para mantener seguros a nuestros artistas, exhibidores, vendedores e invitados durante este momento sin precedentes de la pandemia de COVID-19.
Aquí hay algunas recomendaciones para mantenernos a todos a salvo:
Empaca máscaras mientras te diriges al Festival. Tenga máscaras para todas las edades, según sea apropiado para su familia.
Aunque este es un evento al aire libre, es posible que se encuentre en una fila y no pueda mantenerse a 6 pies entre grupos. Use su máscara cuando esté a menos de 6 pies de otras personas.
Use su máscara cuando interactúe con nuestros artistas, expositores y proveedores.
¿Olvidaste tu máscara? Pase por el puesto de información del festival para obtener uno gratis.
El Festival no tiene entrada segura. Le pedimos que cumpla voluntariamente con el uso de máscaras para mantenerlo a usted seguro y al resto.
Haz tu propia máscara del festival de la monarca
Una actividad en casa dirigida por un artista. ¡Úsalo en el festival!