2020 Minneapolis Monarch Festival Re-Imagined
Continuing our Tradition of Honoring Hands-On Art & Artists!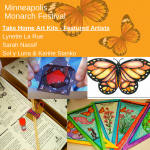 This year, instead of visiting the art-making tents at the Festival, in September we brought the art-making to your home. We were pleased to offer 300 free Festival Art Kits featuring four of our favorite artists.11
Take-Home Art Kits Featured Artists

Lynette La Rue l Butterfly Mask Making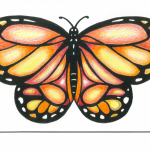 Lynette has been featured at the Festival for several years. She is a local teaching artist, illustrator, performer, and art event planner/director. Her unique work has been shared in art and community centers, libraries and classrooms, orchestra kinder-concerts, fairs, parades, large events, outdoor stages, and television for over forty years. Lynette also writes, directs, and manages a wide variety of productions, bringing her unique expertise to theater companies, community productions, elementary schools, and colleges throughout the US, helping thousands of students from preschool through adulthood integrate the arts into their everyday lives.

Sarah Nassif l Monarch Mobile & Monarch Bingo

Sarah is a long-time artist at the Festival thrilling our audience with take-home screen printing projects featuring bilingual monarch and habitat protection educational themes. She is a botanist, educator, and artist on a mission to bring art and science closer together. She designs creative experiences that connect people to nature and place through collaborative art-making. Sarah's two projects are in Spanish and English.
Karine Rupp-Stanko l Origami

This is the first Festival experience for Karine Rupp-Stanko. She collects words and scraps of used materials to piece together a variety of visual and immersive experiences that connect people to each other and to their environment. An educator at heart, she also holds "social folding" workshops at community events in Saint Paul and Minneapolis on a variety of themes, such as food justice and pollination.

Sol Y Luna l Migration Route Bunting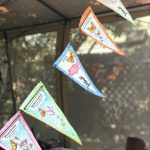 Sol Y Luna are returning artists for the festival. Their mission is to create artwork that brings dialogue to modern and contemporary issues for the benefit of individuals and communities. Featured artists: Constanza Carballo & Kenneth Rivera

A special thank you to Oxendale's Market for supplying the paper bags for the kits and eliminating our use of plastic.